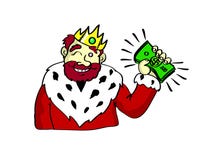 In the book, The Founder's Dilemma, it discusses the topic of whether you want to be king or rich in your business. Allow me to explain and then walk through my thoughts.
King verses rich can also be known as maintaining control verses maximizing wealth. The idea is that you can either stay in your company, and run it yourself because you want to control the business, or you can pass off your company in some fashion, allowing you to utilize your time to grow your wealth in other ways. It is difficult for someone to get both of these things, if not impossible.
Both of these methods are interesting because they can both serve a good purpose and they actually represent my wife and I very well. We are working on opening a wedding venue. We both love this business and are greatly looking forward to working together in it.
My wife is extremely excited about running it and she will be amazing at it. My goal is to get it up, create the business and then allow someone else to run it for us as we build other businesses. I am more focused on the wealth aspect and she is more focused on the control. I do not find that either is a bad thing and in fact we can make it work well with our business. She can continue to work at the venue and run it, and I will help some almost as an angel investor. However, in my time, I will work on other companies and do consulting for them as an angel almost as well.
My wife will be perfectly content hosting weddings and doing that full time and it is one of the many reasons why I love her! She trusts me to be able to do multiple businesses with friends and people I trust.
The way I plan to do this working on relationships with people. If I feel that they can run their own business, I will help them figure out what it is they could do and get them started on it. Hence why I am getting a master's of entrepreneurship, so I can assist other people in achieving the control and wealth they want to pursue while growing my wealth as well!
Either kingship or riches are great to chase in your business endeavors, but The Founder's Dilemma does a great job of explaining that it is hard to achieve both. I think it is important to know what your plan is before you start so you do not get caught up in the one you did not want in the first place. If you are married, it is also important to make sure you and your spouse understand each other's goals and that they work together!
I hope this all gives you a great and clear picture of what it looks like to chase kingship or riches! Which one do you think you are! Please comment and let me know, and how you plan to do so! Writing down our plans always helps us complete our goals.